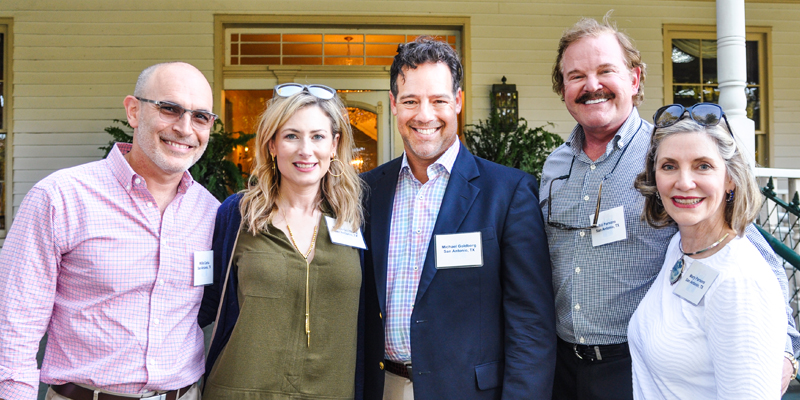 Reuniting with Texans
Willie Cantu, Marnie and Mike Goldberg, and Bill and Mary Parsons, all San Antonio parents, enjoy gathering at the UM Foundation.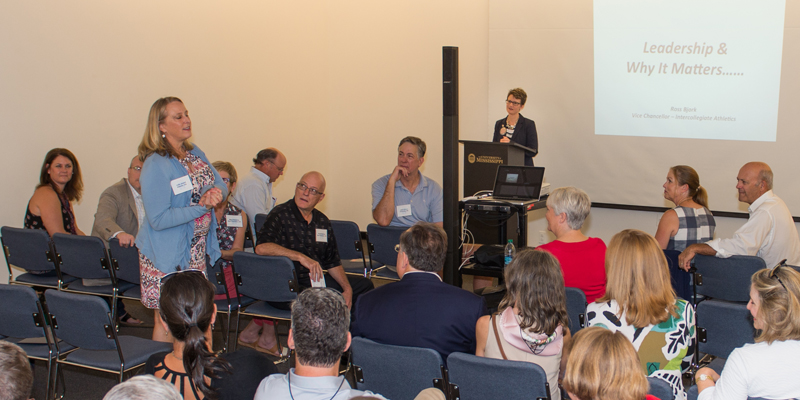 Getting to know you
Atlanta parent Julie Jewell introduces herself at the fall Family Leadership Council meeting.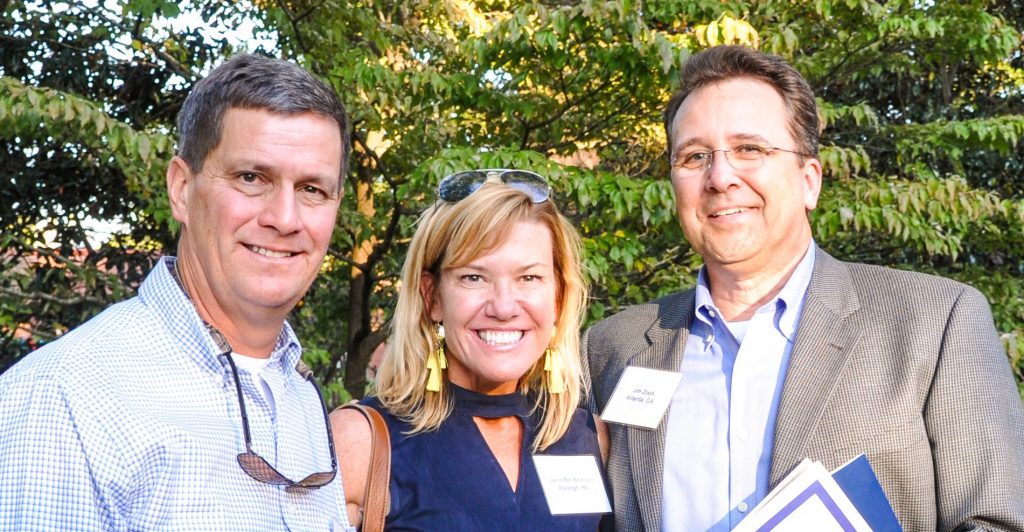 Building relationships
Jim Zook from Atlanta gets acquainted with Jennifer and Jack Brinson from Raleigh, NC.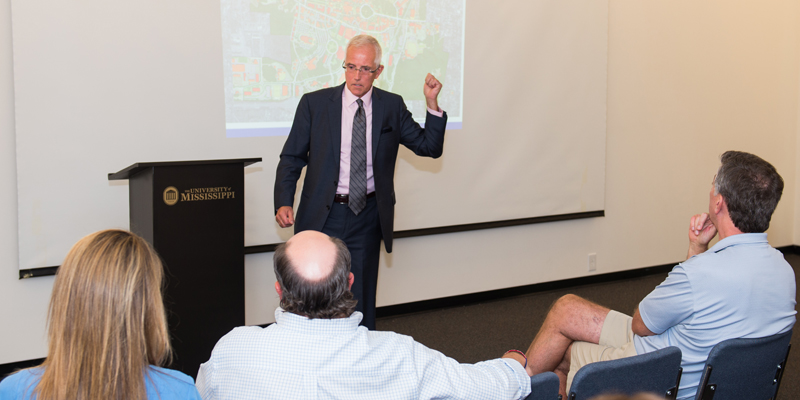 Planning for a vibrant campus
Ian Banner, University architect, provides council members with his vision of the Oxford campus.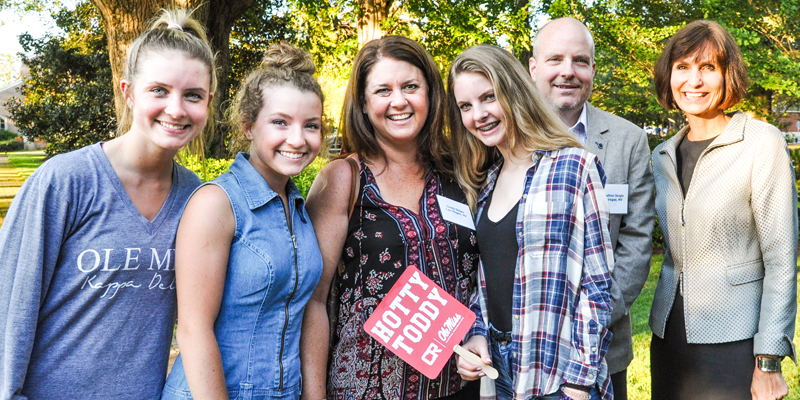 Gathering as a family
The entire Jonathan Seigle family visits with Vice Chancellor of Development Charlotte Parks.
Ole Miss Family Leadership Council
Support your student! Strengthen the University! Connect with the Ole Miss Family!
Join the Ole Miss Family Leadership Council (OMFLC) and be a part of a vibrant organization that shares the University of Mississippi's vision of a nationally recognized academic institution and is committed to supporting exceptional educational opportunities.
OMFLC began in 2014 and has impacted the Ole Miss student experience by supporting areas within the Division of Student Affairs such as health and wellness, campus safety, career services, and student leadership.
Membership on this Council enables parents to direct their support to programs that enhance the student experience and strengthen the university. OMFLC members also have the opportunity to share feedback with UM leaders, faculty, and staff, as well as hear updates on new programs and the expansion and growth of the campus.
With an OMFLC membership, you have the opportunity to:
Collaborate with university leaders
Help direct campus support to areas with the greatest benefit for your student
Exchange and implement ideas that improve your student's experience
Attend two annual meetings: one during the fall semester and the second in the spring
Build friendships with other parents and students
Host or assist with finding hosts for Freshman Summer Sendoffs in your community
Plan or assist in planning Ole Miss recruitment events in your community
Serve a one-year renewable term
Membership:
Membership can be obtained through a minimum annual gift of $2,500 to the Ole Miss Family Leadership Council
For more information, contact Brett Barefoot at 662-915-2711 or bmbarefo@olemiss.edu.  Families also can join online at www.umfoundation.com/flc.
2016-17 Family Leadership Council Press Releases:
FAMILY LEADERSHIP COUNCIL PROVIDES SUPPORT
Resources Directed to Strengthen Areas of Student Affairs
University of Mississippi Director of Landscape Services and Airport and Golf Course Operations Jeff McManus talks with Family Leadership Council members at their recent gathering on campus.  McManus, author of the soon-to-be-published book Growing Weeders into Leaders, and his team work to ensure the Ole Miss campus is one of the nation's most beautiful.  Read more…
ENHANCING STUDENTS' EXPERIENCES
Parents Join to Exchange Ideas, Support Programs
Ole Miss Family Leadership Council members came together for their fall semester meeting Sept. 23, interacted with Chancellor Jeff Vitter and heard his vision for the University of Mississippi's future.  Read more…
---
 2017-18 Ole Miss Family Leadership Council
John and Susan Allbert
Charlotte
NC
**
Chuck and Dawn Barnett
Dallas
TX
****
James and Tracy Beckwith
Sacramento
CA
***
Scott Bengel
Charlotte
NC
*
Richard and Linda Biernacki
Shreveport
LA
***
Jack and Jennifer Brinson
Raleigh
NC
*
Willie and Aliza Cantu
San Antonio
TX
*
Dinesh and Parveen Chawla
Cleveland
MS
*
John and Beth Cleveland
Kingwood
TX
*
Bill Coker and Sally Coker
Spartanburg
SC
**
Grant and Ellen Coleman
New Orleans
LA
*
Mark and Ansley Conner
Atlanta
GA
****
Margaret C. Conolly
Jacksonville
FL
***
Terry and Liz Creel
New Orleans
LA
**
Jon and Susan Crisler
Atlanta
GA
****
Catherine Donaldson
Bluffton
SC
*
Mike and Evelyn Donatelli
New York
NY
***
Jim and Kim Eickholz
Paducah
KY
**
Bob and Jodi Eisen
Englewood
CO
*
Gregory and Tracie Espenan
Metairie
LA
*
Peter and Deans Fawcett
Columbia
SC
**
George and Dyan Getz
Paradise Valley
AZ
**
Mike and Marnie Goldberg
San Antonio
TX
*
Reese and Rebecca Hillard
Fort Worth
TX
***
Wendell and Gayla Hoskins
Steele
MO
*
Fred and Julie Jewell
Atlanta
GA
**
John and Chelle Kelaher
Greenville
SC
*
Keith Ketchman
Schaumburg
IL
***
Bill and Stephanie Lenchinsky
Montclair
NJ
*
Bill and Mitzi Linginfelter
Atlanta
GA
****
Angie Lynch
Mount Pleasant
SC
***
Christopher and Christine Manning
Rye
NY
**
Michael and Lynnleigh Maloney
Henrico
VA
**
Jules and Wendy Marine
Newport Beach
CA
*
Ed and Carla Moreland
Dallas
TX
***
Bill and Laura Ann Mullins
Vienna
VA
*
Bill and Mary Parsons
San Antonio
TX
**
David and Raney Payne
Frisco
TX
****
Glen and Sharon Portwood
Waxhaw
NC
*
Charles and Julie Potter
Ketchum
ID
*
Jon Ringquist
Los Angeles
CA
*
Scott and Shelley Ririe
Chesterfield
MO
**
Kevin Bulivant and Mary Rotunno
San Francisco
CA
***
Richard and Natalie Von Seelen
Great Falls
VA
*
Jon and Cindy Seigle
Las Vegas
NV
*
Timothy and Amy Sullivan
San Francisco
CA
*
Daniel Gerrig and Yehudit Shem-Tov
Leesburg
VA
*
Lyle and Mary Turner
Dallas
TX
*
Kelvin and Melissa White
Paducah
KY
*
Meg Wilson
Houston
TX
***
Bill and Carol Windham
Bossier City
LA
**
Rick and Allyson Zak
Western Springs
IL
*
Jim and Frances Zook
Atlanta
GA
*
*New Member
**Two Consecutive Years Member
***Three Consecutive Years Member
****Four Consecutive Years Member