2019 Fall Family Weekend Dates Set
By Merrill Magruder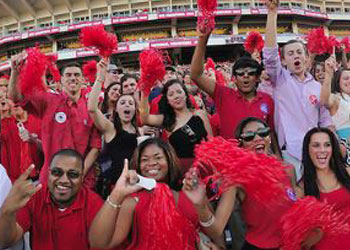 Mark your calendars now for Fall Family Weekend, Oct. 4-5, 2019.  
Join us for the weekend as we gather to watch the Homecoming Parade, enjoy a classroom experience and learn more about what is happening on campus. The Ole Miss football team will host Vanderbilt during Homecoming that Saturday! (Kickoff time will be announced at a later date.)   
Fall Family Weekend is an exciting tradition started by the Ole Miss Family Association, and we look forward to sharing this experience with you and your student. There will be a set registration fee (kids 12 and under attend for free) that does not include hotel accommodations or football tickets. Members of the Ole Miss Family Association will have the opportunity to purchase discounted football tickets separate from paying the registration fee for the event. 
To renew your membership for the 2019-20 academic year, click here. This will ensure your discounted football tickets for Fall Family Weekend, continue your subscription to our monthly newsletter, help you find the tools to help your student succeed, in addition to all the great local discounts.  
Hotels fill up quickly in Oxford during football season. Most hotels open their football weekend reservation window in February. If you are unable to secure a reservation in town, then consider staying in Batesville, New Albany or Tupelo, all of which are within a one-hour drive of Oxford. In addition, many families have been pleased with Airbnb and weekend rentals. 
A detailed schedule of events will be available early in the fall and communicated first to members of the Ole Miss Family Association. For questions, email olemissfamily@olemiss.edu.