'Big Event' Community Service Project Scheduled for March 23
By CC Chace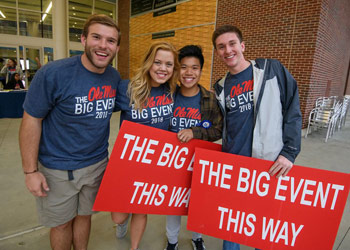 The University of Mississippi is always trying to think big, and the Big Event is no exception. 
During the annual event, which is scheduled for Saturday, March 23 this year, students go out into the local community to help with painting, yardwork, cleaning, repairs, as well as assist the elderly, city and county schools, and local churches. 
"The Ole Miss Big Event is an incredible part of the student experience," said Hal Sullivan, coordinator of programs for the Office of Leadership and Advocacy. "Each spring, thousands of UM students come together to give back to the Oxford and Lafayette community by participating in hundreds of community service projects. 
"Whether students donate a few hours of their time by volunteering, a few weeks by leading a team, or a whole year by helping to plan and execute the entire process, it's easy to see how our students have made the Big Event the largest day of community service in the state of Mississippi." 
For more information, visit bigevent.olemiss.edu. Check to see if your student is getting involved, and then let us know! We would love to feature your student's experience in the next edition of the newsletter. 
CC Chace is a graduate assistant for OMFA and the School of Education.