Managing Financial Aid for the Next Four Years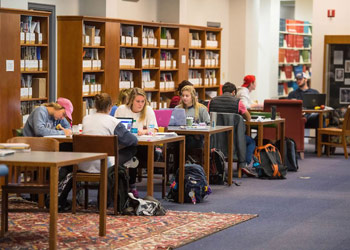 Just as your student has to register for classes each semester, he or she is also responsible for reapplying for financial aid each year.  
Here are some answers to commonly asked questions about financial aid: 
Is merit aid renewable?
When students receive their financial aid package and are awarded merit aid from the university, they can ask if the aid is renewable year after year. Merit aid can be in the form of college-specific scholarships and grants. Some forms of merit aid may also require maintaining a certain grade-point average. If the aid is not renewable, it may be necessary to seek additional funding sources in the form of loans and outside scholarships.  
Students may check the status of their financial aid, complete requirements and/or accept awards through their myOleMiss account. Students should log in to the account, select the "Student" tab, expand the options for "Financial Aid" and then click the "Award Notification" link.  
REMINDER FOR SUMMER STUDENTS — Unlike aid for fall and spring, which is awarded electronically, summer aid is awarded manually, one student at a time. If eligible, students who applied for aid for summer sessions by the priority deadline of April 15 will be awarded aid first. Eligible students who applied or revised their application after April 15 will then be awarded aid. Once awarded aid for summer, students will be notified by email that their awards are available for acceptance online. 
What does my student need to do to stay eligible for financial aid?
Federal aid (student loans, federal grants and work-study) requires that the student makes satisfactory academic progress to remain eligible. This not only includes good grades but also enough credit hours to keep moving toward degree completion. The University of Mississippi has its own satisfactory academic progress for financial aid purposes that you can obtain either online at finaid.olemiss.edu or by talking with the Office of Financial Aid (800-891-4596). 
Are there scholarships for current college students?
Current students should continue the scholarship search and application process throughout college. Just as there are scholarships for incoming freshmen, there are scholarships for students pursuing specific degree plans or majors. Scholarship engines can be used for these searches; for example, MeritAid.com provides a search engine that can help you find scholarships specific to the University of Mississippi. Finding and applying for scholarships should be an integral part of the college financial process each year.  
Occasionally, departmental scholarships will be available for current or continuing students in a particular major or degree field. Encourage your student to contact the chair of his or her department each semester to inquire about additional scholarship opportunities.  
Do we need to refile the FAFSA each year?
When you complete the FAFSA, you apply for financial aid for a specific year, so, yes, the FAFSA must be resubmitted each year. Fortunately, the FAFSA website makes it easy by providing a renewal FAFSA that retains information from the previous year to populate the new form. 
Be on the lookout for organizations that send official-looking mail "To the Parents of …" inviting you and your student to pay a fee and also supply personal information in order to access financial aid opportunities. It does not cost money to file the FAFSA or apply for Pell grants. Make sure when completing the FAFSA that you visit fafsa.ed.gov and not fafsa.com or other look-alike sites.  
BONUS: Student loans: It's not free money!
Counsel your student with this basic rule of thumb: Spend less than you're granted. 
Student loans have to be repaid at some point. The less you borrow, the less you have to repay. The bulk of student loans will go directly to pay for tuition and fees. Set aside the remainder in a savings account to draw on only as needed. Resist the urge to splurge. Create a budget for your living expenses that uses 90 percent of the money available. At the end of the term, pay down the loan with the 10 percent you have left over. Next term, aim for using 88 percent of the money available — make a game of it, and you'll win with significantly smaller loan payments after graduation.  
For more information, email finaid@olemiss.edu or call 800-891-4596. 
This article was provided by staff at the UM Office of Financial Aid.