Student Health Center a One-Stop Shop for Health-Related Needs
By OMFA Staff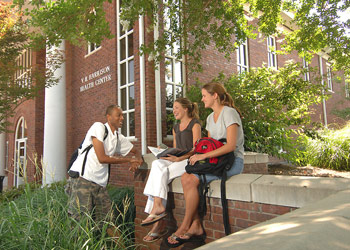 Fall is in full effect, and the Thanksgiving holiday is quickly approaching. This means droves of students excitedly preparing to return home for a break to spend time with their families and friends. While this season of thankfulness is definitely worth celebrating, a far more serious season is well underway: flu season. This brings about the need for conversations concerning your student's health and the resources available through the university to support it.
One very important resource you should ensure your student is familiar with is the University of Mississippi's Student Health Center. Under the directorship of Dr. Travis Yates, a seasoned health professional with 18 years of emergency department medical practice before joining in 2008, the Student Health Center serves as the primary source of health care and wellness for Ole Miss students. Through education, and prevention and care of acute medical conditions, the health center aides the university in enhancing the quality of students' overall experience.
The Student Health Center provides primary care, sports medicine, physical therapy and mental health services. It also provides immunizations, HIV testing, some cancer screenings, travel vaccinations, X-rays and lab work, and a women's health clinic.
The center has been working to provide the flu vaccination to every student on campus. As the flu is such an easily contracted illness, the university has prioritized the access of flu vaccination to ensure its convenience. In an effort to best serve our dense student population, the UM pharmacy also has been working to broaden these preventive measures by setting up immunization stations across a number of central campus locations.
As the Student Health Center is seeing about 100 students a day on average, students are encouraged to schedule an appointment. However, walk-in appointments are available 8 a.m.-4 p.m. Monday through Thursday and 9 a.m.-4 p.m. on Friday. For questions about services, health care professionals, billing and insurance, contact the student assistance line at 662-915-7274.