Quiz Your Student on Academic Advising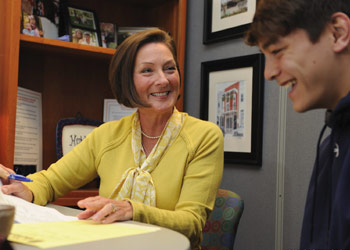 While in high school, your student had a guidance counselor to act as a "go-to" person for many questions, concerns, scheduling and support. In college, that "go-to" navigator is your student's academic adviser. Forming a relationship early with an academic adviser is key to success for your student at the University of Mississippi.
Oftentimes, academic advisers for freshmen are also first-year seminar instructors, a faculty member in the student's intended major or a professional full-time academic adviser. These advisers are your student's front line of support; they should be engaged early and often.
Key Questions Students Should Ask Their Academic Adviser:
What are my "General Education" requirements?
Almost all colleges and universities have a set of required courses that must be completed in addition to a major and one or two minors. Although at some places these courses are totally prescribed, most campuses offer a menu of courses from which students may choose. Students typically complete these requirements (the "breadth" portion of their education) before they dive into the "depth" of their major. Often, general education courses also serve as prerequisites (i.e., courses that must be completed before students may enroll in more advanced courses).
What are majors/minors/concentrations/certificates?
Institutions describe them differently, but these groups of courses ensure the depth of students' study and contribute to the coherence of students' curriculum choices. Although the "you are not your major" maxim is true, students can build excellent resumes through strategic clusters of courses.
What are sequential courses?
Some courses must be taken in a particular order. Students should ask their advisers about majors that are highly structured. Not all courses are offered every term. It's easy for students to get off track if they don't take the required courses in the terms in which they are offered and in the right order.
How will my AP/IB credits count?
The rules of the game are changing all the time. Your student should not make assumptions. Ask, verify, document. Here is a link from the University of Mississippi's online catalog.
How do I build my academic credentials outside the classroom?
Ole Miss offers a myriad of opportunities for students to join faculty members in research and independent study. Often, financial stipends/scholarships are available. Students should begin cultivating relationships with their faculty members during their first year. Advisers are great coaches here!
Should I do an internship?
We know the answer to that question is almost always yes. Advisers can help guide students through the policies at their institutions. Advance planning is key!
If I were to take summer courses elsewhere, how do I do that?
Some programs have a surprising number of restrictions on transferring course work. It's crucial that students talk with advisers about those restrictions and that approvals are in place in advance.
I don't know where to turn. Can you help?
An adviser's answer to this question is almost always yes. No problem is off limits. Encourage your student to develop a strong relationship with his or her academic adviser, who is likely to be the first and best person to have in your student's corner.